about me



Hello World,




I am Rahul Munshi, a third year Physics undergrad at the Indian Institute of Technology, Kharagpur and I welcome you to my small and cozy web residence. I am a proud Indian from Budge Budge, a small town in the southern suburbs of Calcutta.My mother tongue is Bengali and I follow Hinduism.
My area of interest is applied optics and my hobbies are graphics designing, drumming and cartooning. Well I am one of the founder member, drummer and lyricist of the creative rock band

Inside Out

.
This site has pages of great variety of styles. People question me about this inconsistency, but I have only one answer, let's accept the differences and enjoy the beauty.

Best wishes
Rahul


23 Nov
---
Winter is around, without the sneezing and nose blowing legion ever realizing so, Curfew hits Kolkata, Aveek Sarkar ends his MoU with CPI(M), India still deprived of a successful Rahul Gandhi kidnap attempt and Sanjay Leela Bhansali having the big gun from our neighbourhood west, pointed at his magnum opus ridden head, finally unloaded.
BENGAL: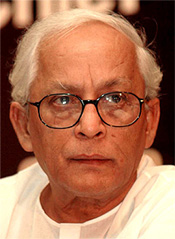 Christmas is nearing and it is a great time to celebrate and have fun. Not for all though, like thegreat "ami dekhchhi" (I shall see) man, His Whiteness the CM of Bengal. Finally managing something to distract media and 'bhadrolok' away from Kolkata's pseudo secular, cosmo-liberitarian bengali's newfound love, the 'clean shaved(pun intended) moslem' Rizwanur. But the distraction is worse coz' it involves thousands of shaved and unshaved 'bhaijaans' of Rizwanur from an ordinary remote and poverty ridden West Bengal village called Nandigram who have nightmares for comrades and brickbats for 'comrades in khaki' as presents, this Christmas.
Nandigram would have suffered Singur's fate as far as public attention is concerned if the mostly idler pseudo secular Bengali majority did not have a virtual Narendra Modi effigy to burn, through every action they could make public. But the situation today have grown humorously complex with the intervention of the much celebrated pseudo intelligentsia of Kolkata. With great intelligence comes actions as great as Mrinal Sen leading a protest march and a support march for the CPI(M) on consecutive days. Another person worth attention is the Anandabazar Patrika and The Telegraph frontman Aveek Sarkar who suddenly started denying Buddhababu the support he had so faithfully extended during the Singur days, forcing the front page dhoti clad superhero who would fly in anytime to save Bengal from her 'unscrupulous Didi', to crash into dungeons.
—-
MOM & SON:
Up there in UP, Mrs. Saina Maino, of Sonia Gandhi fame has been on a failing spree to bring her son Raul(much to the ignorance of the disillusioned UP 'ka bhayiyyas' who prefer his Rahul Gandhi image) to limelight so that after India loses her second most famous economist, she does not have to suffer a prime minister who has freshly risen from oblivion. Several attempts have been directed towards this end and the most ridiculous being the kidnap attempt. Attempted, failed, safe and well into newspapers (sadly not in front page though) and on struggling news channels (as one of the numerous breaking news they air daily). Well, failures apart, the day Rahul manages the PM's seat for him he would be the first Indian PM of half foreign blood who was supposed to be a Muslim but is a baptized catholic Christian and is widely disregarded as a Hindu.
—-
OSO AND THE SAAWARIYA:
Adding to the cream by the autumn end are two back to back releases, one by His Opulence Mr. Bhansali and the other by Her Cuteness Mrs. Farah Khan, (married to an underage) both crafted brilliantly to entice different taste buds of the hungry junta, guiding some of them into a successful post-session puking competition.Om Shanti Om manages a Saturday Night Live on the who's who of Bollywood with success. The comic part is so fresh and charming that you keep on wanting more and all those serious stuffs seem like disturbances to a good show, like an oversized spectator occupying the seat to your front. Although the obese man dissapears quite often as the laugh riot never stops re appearing. Accompanying OSO came Saawariya aka 'a never ending night at the utopian brothel', a blatant display of metrosexual immaturity by the moronish Rishi Kapoor offspring upholding a cocktailed image of a typical Indian achha bachha specializing in homosexually arousing dance moves and enthralling prostitutes with idiotic words of wisdom. Dark night, coloured lamps, skull caps and a refreshingly sound sleep is what Saawariya is all about.
—-
As Novemer ends we all hope that the coming December is not as painstakingly eventful and it has been for a few years now.
God Bless India
Jai Hind
N..B: Please Don't drag me to stake or court or police station for that matter, if offended. Hope our constitution will save me in the first place. Tell me and I shall do the needful.
my links
great tracks
great quotes

Light is the shadow of God
-Albert Einstein

Surely you are joking
-Mr. Feynman